One year ago today I lost my little sister. I should say younger because she was 39 years old. She went home to her Father...and what a day of rejoicing that was, at least in heaven. I know her son, two daughters and grandson miss her very, very much - as do her sisters.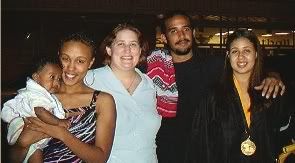 Even though she was grown with three beautiful children and a very handsome grandson, this is how I remember her - 9th grade!!
Dorothy was a beautiful woman who loved the Lord with all her heart. No matter what circumstances life brought her, she
knew
her Father was right there with her and would bring her through.
Its hard to believe it has been year. I miss you Dia. I'm praying for your kids and grandchildren (yes there is another one on the way). I love you.
Dorothy Ann Williams